Wayne O'Connor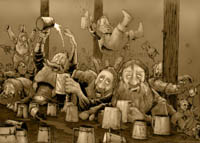 http://pyramidlagota.deviantart.com/
boriadus@gmail.com
Wayne O Connor has worked as a freelance Illustrator and has held several exhibitions of his work in Sligo. He has worked on various commissions including murals, portraits, cartoon logos, tattoo designs and has had several pieces published in various publications including role-playing games in France and international magazines such as Imagine FX.
Wayne has run Art Workshops in a variety of venues including the Model Arts Centre Sligo, The County Library, St Anne's Youth Centre and more also participating for several years in the ARTtrap programme in the Model Arts Centre in Sligo. These workshops catered to both children and teenagers.
He works predominantly in Pen and Ink, but in recent years has branched into the realm of Digital Art mainly utilising the Photoshop, ArtRage and Corel painter software programmes. His imagery is inspired by interests in Mythology, Fantasy and Science Fiction games, film and literature.
2010 Yeats Gallery Group show (organiser and participant). "Through the Looking Glass"
2010 Group Show, Art Mart Sligo
2003 The Art Space Exhibition, Hawkswell (with John Conway)
2002 10sion Group Show, Model Yard Studios
2001 Mixed Method Group Show, Model Yard studios
2000 Group Show in Sligo Gallery
Websites:
http://www.facebook.com/WayneOConnorillustration
http://pyramidlagota.deviantart.com/
Contact email: boriadus@gmail.com