Deirdre Houston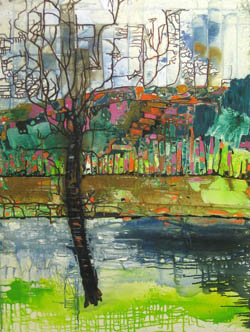 Deirdre Houston is a multi media visual artist living in Sligo. She graduated from Sligo IT with a BA (Honours) in Fine Art. She has exhibited in The Dock; room@The Model; Hyde Bridge Gallery; The Higher Bridges Gallery, Enniskillen; The Hawk's Well Theatre, Sligo and Leitrim Sculpture Centre.
Deirdre has been a studio holder in The Model, Sligo and in Leitrim Sculpture Centre, Manorhamilton. Deirdre also completed a residency at the Tyrone Guthrie Centre, Annaghmakerrig. Deirdre was selected as Sligo Artist for the 2019 Bealtaine Festival, Sligo.
Landscape is a reference point in Deirdre's work. An examination of the tension between two elements, the tactile and the linear, the representational and purely abstract and to push and pull at the dichotomy at work, between painting as representation and paint as a material substance. Multimedia comprising drawings using inkjet prints; watercolour; pen and ink; collage work and oil paint are part of her practice.