Sligo County Council Arts Service invites applications to an Artist Panel for the period 2020-2025

Spilt Milk Festival is taking place in Sligo from 22 - 24 November with 16 solo artists and bands performing, across six different venues.
Sligo's five-year Culture & Creativity Strategy 2018 - 2022 aligns with the Government's initiative in placing creativity at the centre of public policy for the first time and in encouraging and supporting greater access to and participation in creativity to improve the wellbeing of all citizens.
The untapped potential of literary tourism is the focus of Spot-lit, a new three-year project spearheaded by the Western Development Commission in Ireland, that aims to grow the literary tourism sector in the Northern Periphery and Arctic region.
Blue Raincoat Theatre Company will host the 9th annual Blue Raincoat Theatre Academy 11th - 26th January 2020.

Join Sligo's New Intergenerational Choir with Dave Flynn, Choir Director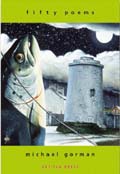 fifty poems by Michael Gorman to be launched by Tommie Gorman at Sligo Live Festival, Hawk's Well Theatre, on Sunday, 20th October, at 2 pm.

Sligo Concert Band - Live on Friday 18th October at 8pm in the Southern Hotel, Sligo

Cúram Group Exhibition will take place at Hyde Bridge Gallery, opening on Tuesday 8th October at 5.30pm.
Blue Raincoat Theatre Company presents The Travels of Jonathan Swift Adapted and Directed by Conall Morrison, 2nd - 12th October

Species Counterpoint - WORLD PREMIERE of a new work by acclaimed Irish composer Ian Wilson for two outanding performers - Ties Mellama (NL) and Cathal Roche (IRL)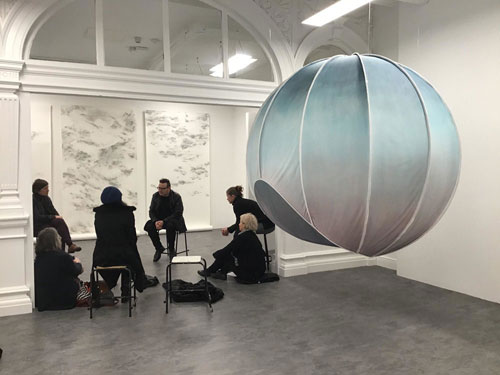 This session will cover all aspects of project delivery from research, to funding, to pitfalls which artists should avoid. It is aimed at those who are considering initiating a project such as an exhibition, commission or competition. This is an interactive session where participants are invited to contribute to the session around their own projects.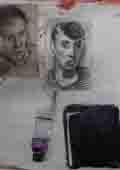 Friends and Family - Solo Exhibition by Andy Parsons in the Atrium Gallery from September 20th to October 31st
An exhibition by BaHa
Druid's 2019/20 FUEL artist residency programme is now open and applications will be accepted until noon on Monday 16th September.
Join Blue Raincoat Theatre Company for Nine Queens this Saturday August 3rd from 12 - 3pm at nine beaches across Co. Sligo. This project is funded by Sligo County Council Creative Ireland Programme 2018-2022.
Inspired by the creative energy of the Northwest, Cairde Sligo Arts Festival is an eight day cultural adventure, featuring a diverse programme of events to ignite the imagination.
This annual Fine Art and Craft Festival, celebrates the legacy of embroiderer Susan and printer and watercolourist Elizabeth Yeats, affedionately known as Lily and Lolly.
Exhibition by Dorothee Kölle in Nazareth Atrium Gallery, Nazareth Nursing Home, Church Hill, Sligo from June 12th - July 29th.

Artist Network Sligo is a network for artists who work in the Community: practicing artists, crafters, social practice artists and facilitation artists.
This Sunday's IMA sees Sligo born soprano Orla Shannon perform a programme of mainly French Song (Fauré, Poulenc, Hahn)
Eamonn Maxwell, Curator and Cultural Consultant - Friday 13th September 10am to 1pm
This session will provide introductory training for artists of all genres working with children and young people with SEN.

Sligo Youth Theatre presents These Bridges from 1 May til 4 May in the Youth Theatre Space, Lower Quay Street, Sligo.
Arrangements for the 54th Annual Drama League of Ireland Residential Summer School which will be held at University of Limerick from 27th July – 3rd August 2019 have been finalised

Announcing an exciting opportunity for Artists (all art forms) to broaden their practice, receive training and project fees, develop creative partnerships with teachers, and transform the lives of children in every County in Ireland...

There will be a presentation by Paul Young, Partner & CEO of Cartoon Saloon on Friday 12th April, in City Hall, Quay Street, Sligo.
Galway University Hospitals Arts Trust (GUHAT) invites professional practicing artists to apply for 3 opportunities in Saolta University Health Care Group hospitals in 2019 – 2020. Shortlisted artists will have a practice that is appropriate or can be adapted to the acute hospital environment, and a commitment to participatory/collaborative practice and public engagement.
Caírde Sligo Arts Festival (CSAF) returns from July 6th to 13th this year. As part of this year's programme, Festival organisers are seeking to connect with younger audiences from across County Sligo.
We would like to invite proposals for Informal Music Afternoons during 2019. IMAs take place on the first Sunday of each month commencing at 1 pm in The Model, Sligo.
Sligo Local and Community Development Committee (LCDC) and Sligo Public Participation Network (PPN), in partnership with Mayo Sligo Leitrim Education and Training Board, Sligo Volunteer Centre and County Sligo LEADER Partnership CLG, are hosting a Grants Information night.

The Creative Sligo Open Call is an opportunity for the cultural sector, community groups, artists and creatives to apply for funding in order to work collaboratively with communities, places of interest and latest technologies in realising the vision of Creative Ireland, in 2019.
Sligo will play host to a number of renowned theatre directors and tutors as part of the annual Blue Raincoat Theatre Academy.
Five annual awards of €20,000 for women artists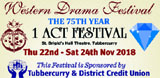 Drama lovers will be delighted to know we have an excellent programme of plays including brilliant comedy and terrific dramas in store for our One Act Festival is on 22nd, 23rd, and 24th November at 8pm in St Brigids Hall Theatre.
Friday 2nd November, 10am - 3pm - Hosted by Sligo County Council Arts Service & Visual Artists Ireland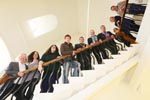 As part of a new partnership Sligo, Leitrim and Roscommon County Councils have come together with filmmakers from the three counties with a view to supporting the film sector the region to grow and develop.
The Western Region Audiovisual Producers Fund (WRAP) is delighted to announce the details of its Development Support.

Hawk's Well Theatre and the Sligo Academy of Music are joining together to create the Sligo Community Adult Orchestra.
Ideal candidates will hold appropriate third level qualifications in music and/or music teaching. Candidates will demonstrate a high degree of relevant skills and experience in teaching children and young people, and in musical performance.
Drawing and Paintings Workshops on Coney Island Sligo Bay.

Glass bead making classes now available at the Graham Reid Design.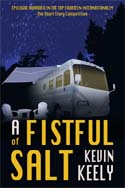 A Sligo taxi-driver gets the chance to win the love of his childhood sweetheart when she gets into trouble with a band of psychopaths.

Sligo Baroque Orchestra is eager to hear from instrumentalists of any age who have good basic technical ability and a desire to be part of an orchestra that includes weekly rehearsals and around eight or nine public performances each year.

The European Creative Industries Alliance (ECIA) recently presented its policy agenda to boost the creative industries. 200 policy makers and representatives from the creative industries gathered in Amsterdam for the launch of ECIA's final report Create! Innovate! Grow!

MyCreativeEdge showcases the work of businesses, freelancers and recent graduates working in the creative industries sector in the West of Ireland, Northern Ireland, Sweden and Finland. Creatives from these areas can create their own highly visual profile on MyCreativeEdge.