Eamonn Dowdican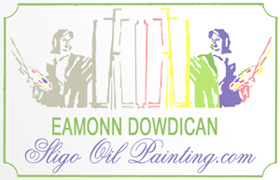 www.sligooilpainting.eu
edowdican@hotmail.com
Eamonn Dowdican was born in Terenure, Dublin in 1959 and moved to Sligo in September 1978 mainly to study art at Sligo Art Department in the IT.
After his foundation year there, he decided to temporally postpone his art studies to pursue other things outside the world of art.
As the years passed he began to paint again and experiment with different drawing and painting styles of his own.
He now teaches these same painting and drawing techniques after many years of self tuition to various upcoming artists in the North West.

2010 Exhibition
The group will exhibit in the Hawks Well Theatre Gallery Space (Foyer) from 24th June, 2010 until 7 July 2010.
For details on Art Classes in the Northside Resource Centre, Mail Coach Road Community Centre and the Old School House in Mullaghmore, Co. Sligo as well as information on the Painting Outdoors in Europe including two trips to Italy in 2010 see www.sligooilpainting.eu.
Grange, Co.Sligo

Email: edowdican@hotmail.com
Telephone: 086 0884972