Annie West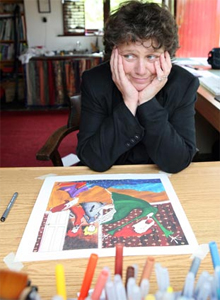 http://www.anniewest.com/
info@anniewest.com
Annie West is an Illustrator living and working in Sligo. She started her career in the Art Department in RTE and then freelanced for ten years or thereabouts in movies, Independent Television and pop promos.
During this time she was commissioned to do art for bands such as The Waterboys, Sharon Shannon, Indian and others. Soon after she got commissions to do cover art for children's books, which she now works at full time.
Annie also does commissioned work and she has produced specially illustrated art for husbands, girlfriends, children, professionals, actors and rock stars. Click on the commissions' page at www.anniewest.com for more details.
Once a year Annie exhibits at the Cat and The Moon Gallery in Sligo.
Annie has won several Illustration and design awards. She designed and illustrated the last Children's Book Festival poster, regularly gives seminars and visits Schools. She has a husband, three children and a Canary. She doesn't know anybody in Westlife.