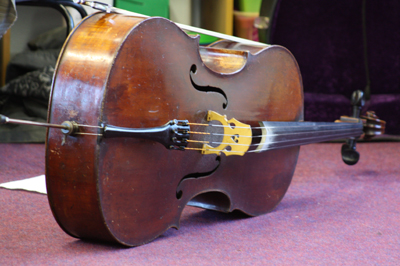 Sligo has a strong musical tradition dating back over many generations. As well as an idiomatic style of traditional music, the county boasts a long interest in music performance of different types, examples of which are regularly to be heard at Sligo's Feis Ceoil, which has been in existence for over 100 years and Feis Shligigh. Musical theatre and choral performances also play an important role inSligo's cultural life. The Hawk's Well Theatre is a receiving house for many local and touring music productions.
In more recent years, music provision in Sligo has been enhanced in many different ways. In the 1980's the Sligo International Choral Festival was founded, bringing a particular focus to choral singing. Since the 1990's two music festivals have emerged – the Sligo Festival of Baroque Music and the Sligo New Music Festival. As well as these two festivals, The Model (Sligo's multi-disciplinary arts venue) hosts a range of other musical events throughout the year some held in partnership with other organisations, and some produced by The Model itself.
Sligo County Council Arts Department (with core programming funding from the Borough Council and The Arts Council of Ireland) has been particularly active in music. One of its principal projects was the Vogler Quartet in Residence from 1999 to 2004. This residency included high quality performances, support and enhancement of curricular music education in schools and the development of instrumental teaching. Although the residency has come to an end, its legacy is still felt in many ways. The publication of the Live Music in the Classroom report on the work of the residency in the education field has had a strong impact, and the engagement of teachers and artists with this project continues to drive developments in this area. The residency programme provided valuable impetus for two Sligo organisations which were founded in 2000, Con Brio concert promoters and Sligo Academy of Music, to assist in developing their capacity and to associate them with world-class musicians. Interest in classical music has undoubtedly been developed at a high level by the continued good work of Con Brio, through the Sligo Music Series, and Sligo Academy under the direction of violinist Niamh Crowley. The Quartet has also continued its association with the annual Chamber Music Festival at Drumcliffe every May Bank Holiday weekend (Vogler Spring Festival 2000-2009).
Sligo has a tradition of amateur music making in many areas by groups such as The Orpheus Choir, the Strandhill-based 4 Bars Later Barbershop Chorus, Sligo Concert Band and the Sligo Early Music Ensemble - whose activities gave rise to the Sligo Festival of Baroque Music – and Sligo Musical Society.
Sligo has a strong traditional music heritage which continues to play an important role particularly through the Coleman Traditional Irish Music Centre in Gurteen and the many annual traditional music festivals which receive grant-aid from Sligo County Council such as the County Fleadh, the South Sligo Summer School in Tubbercurry, the James Morrison Festival in Riverstown, the John Egan Festival in Ballintogher, the Traditional Singing Festival, Coleman Country Bodhran School, Cos Cos Sean Nos Festival and many more. The recently inaugurated Sligo Live festival showcases major artists from the traditional, world, and popular music areas. Jazz and World Music is gaining an increasing foothold through the endeavours of relatively new artist-run organisations Sligo Jazz Project, Samboeire and Itchy Feet Promotions.
"The population of Sligo town is on a par with towns such as Nass, Tralee, Ennis and Clonmel. Yet few of these similar sized towns can boast anything close to the range of music provision currently on offer in Sligo. Sligo can legitimately present itself as a centre of excellence for music, although its population remains small to support such a diverse range of cultural organisations. Continued investment from the local authority, The Arts Council and other organisations will be necessary to underpin and sustain developments in the years ahead." Fergus Sheil, Arts Consultant, March 2009.