Ruach Rhythms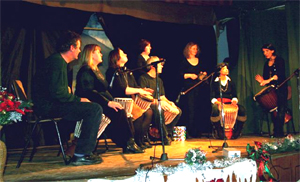 http://www.tribalspiritdrumming.com/
ruachrhythms@gmail.com

094 9860495 / 087 6326610

Ruach Rhythms are now offering school and community packages tailored to meet our expanding cultural communities.
Our workshops are designed to introduce adults, teenagers and children of all ages to the beauty of other cultures through music and song. These workshops are interactive, allowing people to experience drum rhythms for themselves while also helping to improve hand eye and brain coordination in the younger members of our community and a sense of cooperation, team work, community and connection for all. We encourage participants towards the importance of working together to create a shared experience in a respectful and fun filled environment.
What do our packages include?
We provide interactive workshops for individual classes or groups, catering for up to 25 people per 2 hour session, with drums and instruments provided. The cost of this workshop is €300. Concessions are available upon request.
We provide an interactive performance of African Drumming and tribal songs for larger groups and schools. Active participation is encouraged and welcomed. The cost of this performance is €500. Concessions are available upon request.
We provide smaller drum circles for team building and safe space sharing time.
Cost of this session is €200 per 2 hr session. Concessions are available upon request.
What are the benefits of Community Drumming?
Discipline Respect Unity Music and fun !!
About the facilitator
Debbie Beirne has spent ten years working with John Bowker, Irelands leading professional drum circle facilitator and is a founder member of the Tribal Spirit Community Drumming network. Debbie co-facilitates their beginners workshops in the Boghill music centre in Kilfenora Co Clare, and is also a core group member of the Earthsong camps Organisation, Irelands premier community music camp. She has a vast amount of experience in working with children, Youth groups and adult groups and also has access to a large network of community drummers who love to come along in a supportive role. For bookings or enquiries contact: Debbie on 094 9860495 / 087 6326610 or email ruachrhythms@gmail.com

Aims and Objectives
Our aim is not only to share rhythm and song from various cultures , but to show young people and adults that it is possible to belong and feel connected to each other and a community without the use of alcohol and drugs. We aim to create an environment of respectful co-operation, foster creativity, flexibility and spontaneity. To explore leadership skills without competition, and to learn the benefits of working towards a shared goal. And to have fun!!