Tabby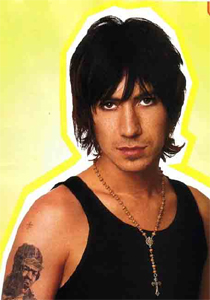 Tabby was given a cassette of Queen at the age of five, his passion for the guitar was born. At eight years old he was playing alongside popular traditional/rock band, Goats Don't Shave, as far away as Donegal and, believe it or not, was writing his first songs.
Petronella was to become Tabby's band for the next seven years with his brother Dominic friend David Irwin. They played all original material that Tabby wrote. Unfortunately in 1998, David died. Six months later decided to take on another drummer and friend Gordon Crystal. Petronella began to gig further afield, playing venues all over Ireland.
Independently when Tabby was eighteen years old, Petronella released their first single called, "Drowning," which went Top 30 in the singles chart.
The band continued to tour Ireland and "Feeling So Low," was the second single independently released, which also got into the Top 20 charts in Ireland and further to that were asked to be the support act to Tom Jones in the R.D.S. in Dublin to thirty thousand people.
Petronella needed to play to different audiences did a three week tour, in July 2002, of the east coast of America. They played 17 venues in 21 days. Gordon Crystal decided to further his career as an architect and Petronella was no more.
Tabby continued to write and record his own material and in early 2003 formed a new band called DZ5, consisting of Eddie Delaney on drums, Gavan Muldoon on Keyboards and Keith Kelly on bass guitar.
In 2004 they auditioned for the X Factor and Tabby came third place in the over all competition.
Since Tabby did the tour of The X Factor he had a documentary crew following him around, at home, recording and gigging. The documentary was shown on ITV2 in August and is called, "What Tabby Did Next…."
Tabby still plays with the boys from DZ5, now renamed "Tabby and the Tsars" supported Rod Stewart at the Source Festival. The summer of 2005 has been busy with O2 in the Park, Lamas Fare Festival and our very own Grange Festival. They've recently played the world famous birthplace to The Beatles, The Cavern. The gig was electrifying, in true Cavern style, dark and sweaty.
Tabby's single called "Number One," has now been in the charts for two weeks at number seven.