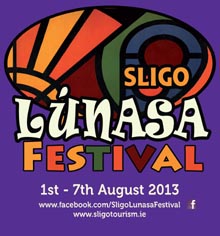 We are all really looking forward to seeing the 4th Sligo Lúnasa Festival take off on August 1st. There will be so much entertainment in Sligo during the week of the festival; you will be spoiled for choice. The festival, and its many cultural offshoots, gives Sligo a high profile image in the national calendar of events. The entertainment for this year is international, exciting and varied. We have an amazing line up of 140 events in 55 venues. The good news is 98% of it is free. Sligo is having one big party from 1st – 7th August. Hope you climb on board and enjoy the fun.
The Sligo Lúnasa Festival will feature a myriad of events, including a week-long celebration of café culture, pub gigs, street party, children's workshops, outdoor cinema, art and photography, markets, racing, Sligo Triathlon, beach yoga, walks and talks, storytelling and a whole lot more. There is also a Sligo Arts Festival reunion as part of The Gathering Ireland 2013. The beauty of these events is that most of them are free. These events have been produced by FergusonEvents, supported by Sligo Tourism Ltd and have been grant aided by Failte Ireland, Sligo Borough Council, Guinness and the participating venues and private sponsors. (Seewww.facebook.com/SligoLunasaFestival or www.sligotourism.ie for full details.)
"The Sligo Lúnasa Festival will ensure that both festival goers and promoters alike, together with the local community, will enjoy local hospitality at its best. The many fringe events will have the whole town buzzing and will showcase the wealth of musical talent Sligo has to offer, this will be complimented by a host visiting artists," enthused Bairbre Ferguson.
Sligo is throwing one big party. The party is for everyone, young and old, and has events to suit all ages and musical preferences. Everyone can experience the best that Sligo has to offer, the best music, the best food, the best shopping, the best atmosphere and most of all the best of craic.
Bairbre Ferguson said "Whether your preference is a small intimate and relaxing gig in a café or a lively pub session, it's all there. Equally so you can dance your socks 'til the wee small hours." Thanks to the Sligo Vintners all venues have a late licence from Friday to Sunday so this gives festival goers the opportunity of having a late night dinner followed by a gig or the chance to see a number of different performers in action over the course of an evening.
There is a great family street party planned for O'Connell Street on Saturday 3rdfrom 2pm to 5pm. There are also free children's workshops on Saturday in Johnston Court and on Sunday in Quayside. All the kids can come along and participate in any or all of the free workshops during either of the afternoons. Workshops will include play in clay with Rachel Quinn Ceramics, crazy felt starfish workshop with Heidi Wickham, children's jewellery with Tiffany Budd and make your own hedgehog with Dympna O'Driscoll. Mini book making with Karen Webster, Stick 'em up paper patchwork with Wendy Kochman, Glass Painting with Eilish O'Donnell and print making with Teresa Owens. Elaine Burke will also be happy to assist in decorating your own cupcake. It's guaranteed to be lots of fun. There will also be plenty of entertainment for those not participating in the workshops. To get the party really rocking we have some terrific music with Ruby and The Night Hawks, Dermot Byrne, The Woohooers, Yield, Gerry Hanley and friends, Stephen James, Alan Roberts & Friends and dancers galore and a whole lot more.
"Whether your preference in music is traditional, folk, rock, jazz, country blues, funky, disco we have it all," says Bairbre. Just pick up a brochure in any of the hotels, restaurants, pubs, clubs, cafes or the Tourist Information Office (GHQ O' Connell Street) and you will be spoiled for choice. All you have to do is turn up and have the time of your life.
Sligo Lúnasa Festival 2013 (PDF) - 8,019 kbs