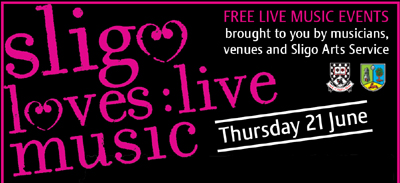 www.lovelivemusic.ie www.sligomusic.ie
Sligo loves : live music events (PDF) - 1,273 kbs
This Thursday, 21st June, Sligo is part of love:live music, Ireland's celebration of International Music Day with FREE live music events all over the country. Taking in trad, jazz, baroque, choirs, bands, shopping centres, restaurants, pubs and arts venues, Sligo has a great line up of events in a variety of venues including:
11:30am
Music Generation Sligo
Ocean Life - Ocean FM
4:45pm
Music Generation Sligo
and
Fred Finn Comhaltas
Johnston Court Sligo
5pm
Samboeire: A Samba Soiree
Sligo Railway Station, Sligo town
5.30pm
Sligo Concert Band
Johnston Court, Sligo town
6.30pm
Sligo Baroque Orchestra
The Model, Sligo town
7-9pm
4 Bars Later Barbershop Chorus
Various Venues: The Clarence, Johnston Court & Source
7.30pm
Jazz with Jim and Felip
Osta Café, Sligo town
7.30pm
Comhaltas
Lavally Monument and Ballintogher Village
8pm
Blazing Bows €18/15 (20 free tickets)
Hawk's Well Theatre
8.30pm
Musical Tribute to Past Musicians
Ceolaras Coleman, Gurteen
8.30pm
The Odd Couple
Source, Sligo town
8pm
CCÉ Seisiun
Teach Morrison, Riverstown
8pm
ThisSideUp!
The Swagman, Sligo town
8pm
Fireside Sessions, Song and Music
Barrys Public House, Grange
9pm
Celtric Fringe Festival
Barrys and Morans Pubs, Grange
9pm
Traditional Session
McGarrigles, Sligo town
9.30pm
Traditional Session
Foleys Bar, Sligo town
9.30pm
Dixi Fried Country Sessions
Fureys Bar, Sligo town
10pm
Ruby Ridge
Hargadons, Sligo town
The Music Generation Sligo team also feature and perform live at 11.30am on Ocean Life - Ocean FM to celebrate the successful Discovering Music Programme 2011-2012. Over 2,500 young people have participated since last November. The Hawk's Well event is a great trad concert by Blazing Bows: Cathal Hayden, Dezi Donnelly, Tóla Custy, Ed Boyd and John Joe Kelly. The venue is offering 20 free tickets for Sligo loves:live music. To win just send an email to info@hawkswell.com saying what instrument is celebrated in this concert. Look out for evening-time 'pop up' appearances by 4 Bars Later Barbershop Chorus at various venues in Sligo town such as The Clarence, Johnston Court Shopping Centre, Source and Hargadons. Comhaltas events will take place in various towns and villages in the County.
Sligo is one of the most musical counties in Ireland, with a vibrant music scene and a love of music performances of different types and we are fortunate to have a wealth of professional and community musicians and organisations who play an important part inSligo's cultural life. This Thursday, Sligo loves:live music is a day to celebrate our musical tradition and audiences can find out once again just whySligois synonymous with great music and musicians.
A newly developed website www.sligomusic.ie will go live this evening. The website is an initiative of musicians, venues and music organisations with the support of Sligo County and Sligo Borough Council Arts Service and Creative Sligo. The site is primarily designed as a live music listings site with profiles and information on Sligo's music festivals, events, venues and organisations. So if you're searching for music in Sligo this summer, check out www.sligomusic.ie and 'Set your (musical) spirit free'!
Love:live music is a one-day event co-ordinated at a national level by Music Network, in association with RTÉ Lyric FM, and funded by the Department of Arts, Heritage and the Gaeltacht and the Arts Council. Sligo's events are hosted by the Sligo Music Sector with support from Sligo Arts Service with special thanks to all venues, musicians and organisers.
For further information see www.sligoarts.ie www.lovelivemusic.ie and www.sligomusic.ie