Aidan Crotty & Kate MacDonagh Selected Artists for 6-month Residencies at The Model Sligo
Sligo Arts Service and The Model, Sligo are delighted to announce Artists Aidan Crotty and Kate MacDonagh as the first 2 recipients of the Artist Studio Residency programme, at The Model, commencing February 2023; following an Open Call process in late 2022. The first 2, of 4 Artist Residencies will run between the 1st February to 31st July 2023. The Artist Residency programme aims to enable Sligo-based artists to develop their studio practice during a 6-month period. It comes as a response to a The Sligo Culture and Creativity Strategy 2018-2022's public consultation and RIOT: Sligo conference, which identified a need to support visual artists in securing studio space in Sligo.
This residency programme is funded and managed by Sligo Arts Service and made possible by Creative Ireland.
There will be a further announcement later in the year, of the 2 recipients selected for the second half of the residency programme, running from August 2023 to January 2024.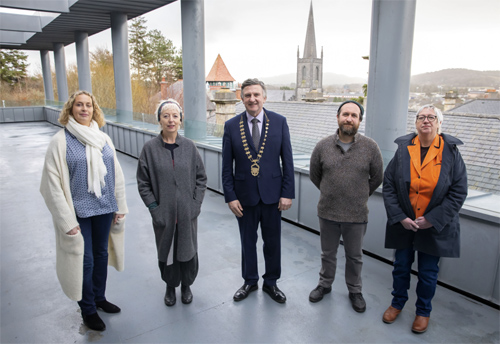 Pictured at The Model, Sligo: Emer McGarry, Director of the Model, Kate Mac Donagh, Artist, Cathaoirleach Councillor Michael Clarke, Sligo County Council, Aidan Crotty, Artist, and Mary McDonagh – Acting Arts Officer, Sligo Arts Service.
© Image credit: Photographer Carl Brennan
"I would like to congratulate Aidan and Kate on their successful applications to the Artist Studio Residency Programme, which I'm certain will provide them with invaluable experience in developing their creative talents and skills. This is a fantastic initiative for Sligo based artists and I congratulate both the Sligo Arts Service and The Model on their co-operated effort in bringing this worthwhile Programme to fruition." – Cathaoirleach Councillor Michael Clarke, Sligo County Council
"Sligo County Council Arts Service is delighted to support four artists in 2023 to take up the Model's superb studio facilities. We are responding to the ongoing needs of artists to access spaces in Sligo in which to work. We hope to increase this kind of support in the future." – Mary McDonagh, Acting Arts Officer, Sligo County Council
"The Model is very pleased to partner with Sligo Arts Service on this bursary award for artists in the region. This support will enable four artists to build upon their studio practice in 2023, which is a critical cornerstone of ongoing professional development. Additionally, it enables the formation of new networks, opens the door for new collaborations and the sharing of ideas, all of which are vital elements of a healthy arts infrastructure in Sligo." – Emer McGarry, Director, The Model, Sligo
"I'm delighted to have this opportunity to develop my work in a locally dedicated studio space at the Model. This residency has come at the right moment and I'm looking forward to getting started. " – Aidan Crotty, Artist
"I am delighted to have received this residency at the Model- the timing couldn't be better: I am starting a collaborative project of large work for an exhibition in Japan next year. I needed a studio to realize the project. Many thanks to Sligo Arts Service and The Model for this wonderful opportunity." – Kate MacDonagh, Artist
Back to Arts News