Exchanges Talk Series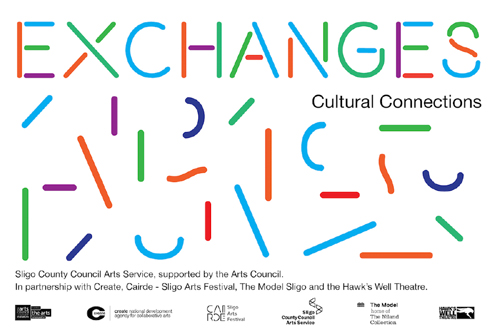 The Exchanges talk series is presented by Sligo Arts Service and Create, the national development agency for collaborative arts, to celebrate the rich cultural diversity within the Sligo community. Exchanges is aimed at providing funding and supports for artists at all stages of their career who are interested in working in culturally diverse and socially engaged contexts, and is funded by the Arts Council's Invitation to Collaboration scheme.
Navigating the Irish Arts Scene
Hina Khan (visual artist) and Amir Abu Alrob (theatre), in conversation with Evgeny Shtorn.
Exploring Socially Engaged Arts Practice
Jijo Sebastian (film artist), Emily Waszak (textile artist), Tobi Balogun (dance and multi-disciplinary artist) and William Bock (visual artist), in conversation with Zoë O'Reilly.
Culture & Community: Sligo Global Kitchen & The People's Kitchen
Senelani Matashu and Sidonie Siwe Leunde (Sligo Global Kitchen), and Kate O'Shea (The People's Kitchen), in conversation with JoAnne Neary.
*All views & opinions expressed in the conversations are those of each individual contributor.
Back to Arts News