26th Sligo Baroque Music Festival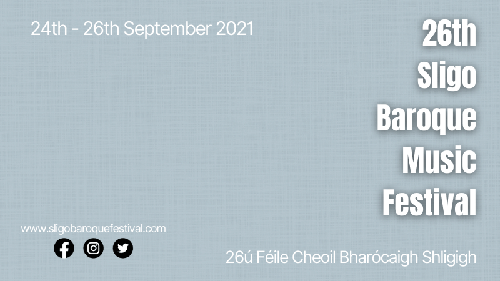 The 26th Sligo Baroque Music Festival will take place from Friday 24th September to Sunday 26th September 2021.
The Festival At A Glance
Friday 24th
Time
Event
Location
Admission
20.15
Sestina Choir and Orchestra
The Bach Family Legacy: Masses and Motets
Cathedral of the Immaculate Conception
€30
Saturday 25th
Time
Event
Location
Admission
12.00
Sligo Baroque Orchestra
Open air community concert
Kempten Promenade
FREE
13.00
IBO Apprentices Ensemble
Telemann, Purcell, Dowland
Presbyterian Church
€15
14.00
Mark Chambers talk
The Singer as Celebrity
Presbyterian Church
FREE
17.00
London Handel Players
Bach's Brandenburg Concertos - Complete
St John's Cathedral
€30
20.30
Jonas Nordberg
Dowland lute pieces
Gillooly Hall
€20
Sunday 26th
Time
Event
Location
Admission
11.30
Sligo Academy of Music
Exhibition Concert
Hawk's Well Theatre
FREE
13.00
Oliver Webber talk
The Winding Path
Gillooly Hall
FREE
14.00
Claire Duff, Sarah Groser, Yonit Kosovske
Music of Bach's Youth
Gillooly Hall
€15
17.00
Sligo Baroque Orchestra
The Concerto Grosso in Bach's Time
Hawk's Well Theatre
€15
19.30
London Handel Players with Jonas Nordberg
The Fruit-Bearing Society
St John's Cathedral
€25
Tickets are available (from 8th September) from the Hawk's Well Theatre box office, by phone on 071 916 1518, or online at www.hawkswell.com.
All tickets must be booked in advance, including for the free indoor events.
Tickets or booking are not required for the free open air concert on Saturday 25th.
Current public health guidance will apply to all the events.
Download the full 26th Sligo Baroque Music Festival programme (PDF) - 1,285 kbs
Back to Arts News