Sligo Global Kitchen & The People's Kitchen'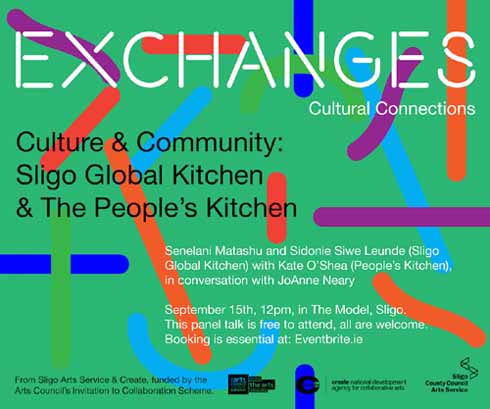 Members of two innovative groups, Senelani Matashu and Sidonie Siwe Leunde from Sligo Global Kitchen, with Kate O'Shea from The People's Kitchen, will speak with JoAnne Neary about their own unique perspectives on community connections, food justice and sharing cultural heritage.
This panel talk is free to attend, booking is essential. https://www.eventbrite.ie/e/culture-community-sligo-global-kitchen-the-peoples-kitchen-tickets-169637940647
From it's beginning in 2014, Sligo Global Kitchen (SGK) has grown and developed into a space for communities to gather and share food, music, and experience culture from Sligo's diverse mix of residents. In an exploration of socially engaged practice, SGK was originally an initiative of artist, Anna Spearman, and supported by The Model. Anna approached residents from the local Globe House Direct Provision Centre and worked with The Model in meeting the need for residents to have their own space to cook and share food. Senelani Matashu, chairperson, and a member of Sligo Global Kitchen since its inception, explains that SGK played a major role for most of those who were in Direct Provision. SGK has gone on to become a popular and celebrated part of Sligo's social culture, hosting monthly events at The Model and working with different community groups. In 2018 Sligo Global Kitchen were the winners of the Community Food Award at the Irish Food Writers Guild Awards.
In a society that separates us and seeks to dismantle community, the People's Kitchen makes space for community building through food, print, conversation, and music. It began as a monthly food event in Sample Studios, Cork in 2015 by artists Kate O' Shea and Daren Kirwin. Since then, it has taken many forms over the years, playing with different ways of collective food making and sharing. In 2018 Kate was funded by the Arts Council Artist in Community Scheme (AIC), managed by Create to research and develop The Peoples Kitchen with residents from North Main Street Cork with mentorship by Dawn Weleski (Conflict Kitchen). The project brings together residents including community activists, business owners and many others who have links to the street using print and food to ask critical questions around uneven urban development, media representation and dereliction. In 2019 the North Main Street community were awarded AIC Scheme Project Realisation Award to work with Kate to further realise People's Kitchen. The aim of the People's kitchen is to create a platform for people to experiment with their own community food and print practices and create space for nurturing existing and new forms of collective organising. Other collaborating artists include Eve Olney (The Living Commons), Aoife Barrett (Print Van Go), Dawn Weleski (Stone Soup), and architect Aideen O' Donovan.
The Exchanges talks series is from Sligo County Council Arts Service and Create, the national development agency for collaborative arts, and is funded by the Arts Council's Invitation to Collaboration scheme. The programme focusses on developing supports for artists from culturally diverse backgrounds and is aimed at providing funding for artists at all stages of their career, who are interested in working in culturally diverse and socially-engaged contexts.
Back to Arts News