Adventure Storytelling Experience for families Thursday 12th August 2021 at the Hawk's Well Theatre
Young Theatre fans and Families will be delighted to learn about 'The Hero's Tale' an exciting adventure story performed by Wayne O'Connor at Hawk's Well Theatre this Thursday 12th August 2021.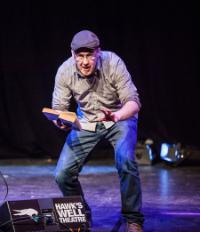 Imagine a story where you are the hero, you make the decisions and your decisions determine the final ending of the story! Join Storyteller and Artist Wayne O Connor as he weaves an exciting adventure story set in a world of Magic and Myth. With the audience providing elements of the story and deciding how the story unfolds, every session will be a unique adventure and this show promises high energy, humour and lots of audience participation at every twist and turn!
Wayne O'Connor is a Sligo based artist whose work is chiefly inspired by his love of Myth, Fantasy and Folklore. Working primarily as a Digital artist, Wayne has had his work featured internationally in several games and books. He is also a storyteller and arts educator, working regularly in libraries and schools around the country.
There will be three performances of 'The Hero's Tale', offering families an opportunity to enjoy a live performance experience and create great summer memories in a relaxed and safe environment. The performance can be enjoyed by all ages but is most suitable for Children aged 7+. The Hero's Tale' will take place outdoors under cover from the sun or the rain.
In line with Government public health recommendations, seating capacity is limited and tickets must be pre-booked in advance. The Hero's Tale takes place Thursday 12 August 2021, 10am, 11.30am and 2pm and tickets cost €15 for a family pod. For enquiries or to book, visit www.hawkswell.com or call 071 9161518.
Back to Arts News