Bealtaine Festival Sligo 2021
Bealtaine festival celebrates creativity as we age! Over 120,000 people now take part nationally in Bealtaine. From dance to cinema, painting to theatre, Bealtaine showcases the talents and creativity of both first-time and professional older artists.
May belongs to the Bealtaine festival, celebrating creativity as we age! It is a chance for people to make new and challenging work, a chance to communicate traditions between the generations. It is a chance for the novice to discover a talent until then unseen and a chance for a long-dormant skill to find a new outlet.
This May join us online for Bealtaine Festival Sligo 2021.
Bealtaine Festival Sligo event outline 2021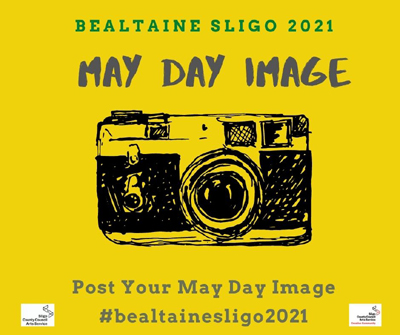 May 1st
May Day Image #bealtainesligo2021
This May Day as part of the Bealtaine Sligo Festival 2021 we are inviting you to welcome in the summer and share your May Day pictures with us. Open to all ages. Be part of this year's celebrations to celebrate creativity as we age. Just TAKE and POST a photo. This can be anything from the flower in your back garden to something creative you have made to a photo of your first cup of coffee of the day. This May first take a May Day photo and post it to your facebook and Instagram page #bealtainesligo2021.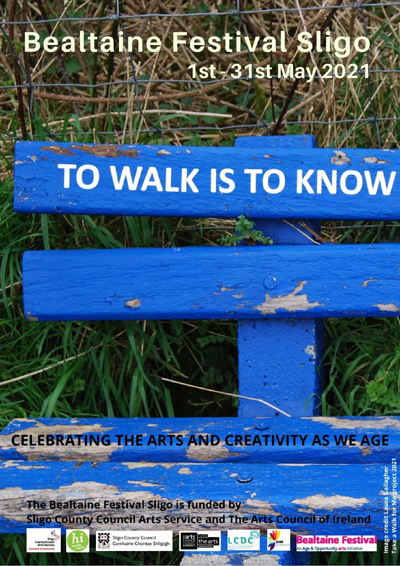 May 1st – 31st
Take a Walk for Me Project postcard artworks will be distributed widely throughout the community via Active Age groups, Walking groups, Men's shed groups and Nursing Homes, etc. Each week one postcard will be posted online via Bealtaine and Sligo Arts Service Facebook page. The posts will also include an artist profile piece and a selection of their project work.
Funded through The Healthy Ireland Fund supported by the Department of Health and the Department of Children and Youth Affairs 2019-2021. Part of the KEEP WELL campaign.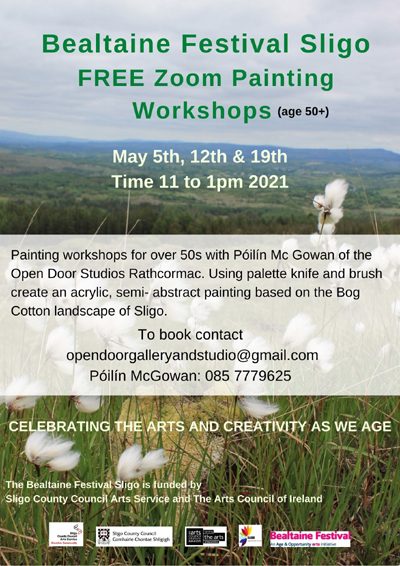 May 5th, 12th and 19th Time 11 to 1pm
Painting Workshops (Free)
Booking is limited to 8 participants
Zoom Painting workshops for over 50s with Poilin Mc Gowan of the Open Door Studios Rathcormac. Using palette knife and brush create an acrylic, semi- abstract painting based on the Bog Cotton landscape of Sligo.
May 7th
Cos Cos Bealtaine event
6pm - Movement and Dance on zoom with Catherine Donnelly founder of Elderberries Dance.
7pm - Festival Scones Baking online with Mary Coggins when her secret ingredient will be revealed.
8pm - Online Session: Music, Song and Story with the 'Silver Stars Bealtaine Ensemble"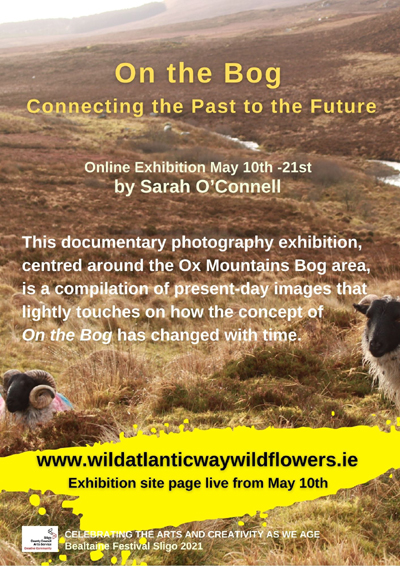 May 10th – 21st
Photography exhibition On the Bog - Connecting the Past to the Future
by photographer Sarah O'Connell
"The colours and contours of the Ox Mountains Bog area are a joy to photograph. This documentary photography exhibition, centred around the bog, is a compilation of present-day images that lightly touches on how the concept of On the Bog has changed with time. I hope that viewers will appreciate anew this unique and powerful landscape, as well as enjoying some serene and exhilarating time On the Bog, without fear of midge bites, back-strain or sunstroke."Website link live from May 10th www.wildatlanticwaywildflowers.ie
Back to Arts News