Bealtaine Postcard Project 'Sabhaircíní buí'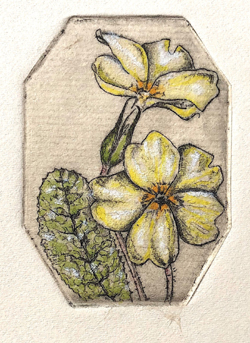 For 17 years Sligo County Council Arts Service and the HSE West has succeeded in providing older people with increased opportunities to participate in cultural activities during the annual Bealtaine Festival in Sligo.
Sadly, like so many more community based festivals, Bealtaine Festival Sligo 2020 has been cancelled, but this year Sligo Arts Service has commissioned a very special Bealtaine Postcard project. Entitled 'Sabhaircíní buí ' this project is named after the Irish word for Primroses, which are considered the traditional 'May flower' in many parts of Ireland.
Bealtaine itself means the month of May, with all of its associations of emergence and renewal. 'Sabhaircíní buí' is a selection of commissioned poems and an artwork print etching. The writers involved in the project are writer Maura Gilligan, retired teacher Nora Ryan and visual artist and writer Crόna Gallagher.
The postcards, adorned with commissioned Bealtaine poems and primrose flower print image, will be distributed to older adults who are cocooning. We will follow the old Irish Bealtaine tradition of leaving May flowers at your neighbour's door for the first of May - said to bring good luck, hopes for a bountiful summer and the protection of family, home and livestock.
The 'Sabhaircíní buí ' postcard will we hope, bring a little of the May blessing to those who receive one in their door during the month of May.
'Sabhaircíní buí' is funded by Sligo County Council, HSE West and the Arts council of Ireland.
Primroses print by Crόna Gallagher
A Place for Bees
In pale blue scrubs
and with a safety mask
covering her face,
the mountain screams
in the delivery room
and a litter of pup's slithers all out
takes to her teat for its sky larks
and hawthorns,the husky sustenance
of Knocknarea where colostrum clouds
grow plump as cherubs.
At sunset,
the hull of Benbulben
edges into port.
She sits high on the water
with her hold, empty of all cargo,
as Coney Island tugs her in
to the breakers yard at the Rosses.
Shards of the vessel are broken for parts
on these barefoot days when the tar on the roads
is soft under thumb,and tender as the primrose.
We will gather the flowers from her hedgerows now
while scrap from the mountain is winched away
and set them in a garland about her head
as a gift for her when she falls to pieces
And a place for bees, to rest.
Crόna Gallagher May 2020.
Sunshine in a time of Isolation
Surely Heaven holds days like this
In its repertoire
Birdsong carried on warm breezes
Solos from blackbird, thrush and wren
Sustained percussion from the shore
Ignoring a world that rocks on its axis
The apple tree buds, ash bark gleams,
April impels us into May
In a hilly field, my grandson
Digs up primrose bouquets
Sends them in a basket to my door
Surely Heaven holds moments like these
Maura Gilligan May 2020.
Féile Bealtaine
Féile Bealtaine, Feast of May
Images of sabhairciní buí
Enhancing our oft-times dreary lives
Lambs frolicking gamely in the fields
Joyously bleating, as if to say
Our lives are here to enjoy....
Reminding us of everything
That's still good in the world
With endearing thoughts and memories,
For better or worse, no begrudgery,
We'll give thanks for each small mercy
This Bealtaine, this month of May.
Nora Ryan May 2020.
Back to Arts News