Spilt Milk Festival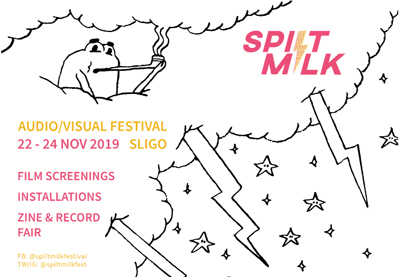 New-wave of Irish artists set to be showcased at brand new Sligo festival
The first edition of Spilt Milk Festival, a town-wide celebration of music and moving image will take place in Sligo on the weekend of the 22-24 November. With a programme that leans into the experimental, festival goers can expect to see electrifying performances and works from Irish and international artists; a sparkle of illumination as the winter draws in and daylight fades.
The music line up features 16 artists and bands performing live across six town-centre venues with many artists making their first appearances in the North West. Ensemble Economique will head up a two-stage affair at The Model. The alias of California-based musician Brian Pyle, his music moves seamlessly through sound-collage, dark noir pop, and minimal techno. He is joined by the cream of Ireland's emerging alternative and experimental scene including Aoife Nessa Frances, Rachael Lavelle, Grave Goods, Gulpt and BB84.
The festival is bookended on the Friday and Sunday evenings with intimate shows in Sligo's art and cultural venues: proceedings open with an alcohol-free show in The Nest featuring Belfast's Problem Patterns (recently nominated in the Northern Ireland Music Prize) and fresh new Sligo experimental outfit Marge Bouvier. Also on Friday in Bookmart, an audio-visual experience from multidisciplinary artists Katie Gerardine O'Neill and Dult will takeover the bijou bookshop. On Sunday the festival will begin to wind down with an evening of folk and traditional music in the Yeats Building from harpist Dave Lawless and 4 part harmony group Landless.
Free music events will take place throughout including a Saturday matinee show in Bookmart from Diarmuid MacDiarmada. The Swagman plays host to Cork hip hop collective Cutting Heads, featuring JusMe on turntables and MCs Farid Williams and Speculativ Fiktion; expect high energy sets that include turntablism, live beat making, & rapping from this well respected crew. Lastly the festival closes with krautrock/shoegaze trio Percolator in Anderson's, one of Irelands most malleable, razor-sharp live units.
The visual strand may be a smaller affair but packs a solid punch. It opens with a screening of Terror Nullius, an intricate weaving of Australian fact and fiction; part political satire, eco-horror and road movie. A video installation on Saturday and Sunday afternoon from director-animator Kevin McGloughlin fittingly takes place in a former video rental store which is now the new studio of Pulled Screenprint. On Sunday we present Speakeasy a unique communal experience which will ignite all the senses. Dining at Gallery Cafe; enjoy a 3 course menu specially prepared to match our secret movie that will play as you eat. With a killer soundtrack, this indie classic is a short journey back into a revered modern autuer's film canon.
The weekend will also see the launch of two zine libraries at The Nest where the festival zine, print and record fair also takes place. Joining forces with The Conscious Bazaar, a monthly ethical pop-up market, this will be a showcase of DIY culture from small press publications and record labels to craft and comics. Zines and publications from around the world will be available for perusal through the newly formed North West Zine Library and Sukie Zines (Ireland).
All performances are ticketed separately with some free events; a limited number of free multi-event tickets for u23s are also available. For booking and more info visit: spiltmilkfestival.com.
Spilt Milk is supported by Creative Ireland (Sligo) Programme and Sligo County Council.
Get your tickets
There will be no weekend pass for the first edition of the festival, individual events will be sold separately with some being completely free: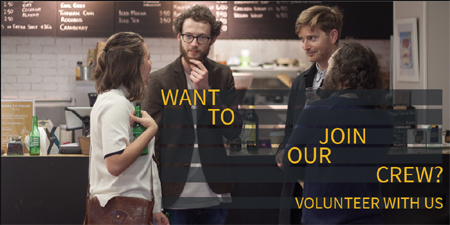 Interested in a fun weekend meeting new people and experiencing new and inspiring music & film. Then we are looking for you! We are seeking volunteers to complement our small but dedicated festival crew, applications can be made online via a form on our website http://spiltmilkfestival.com/about/volunteer/
Back to Arts News