SLR Film Project presents Paul Young, CEO of Cartoon Saloon, Friday 12th April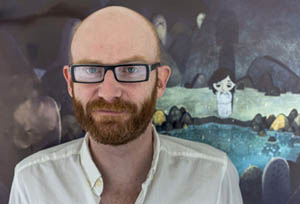 Paul Young
Partner & CEO of Cartoon Saloon. ACADEMY AWARD® Nominated Producer.
Paul is a co-founder of Cartoon Saloon, an IFTA winner and Oscar® and Bafta nominee. He produced the animated features, The Secret of Kells, Song of the Sea and The Breadwinner.
The Breadwinner, the 3rd Oscar® nominated film from Cartoon Saloon was directed by Saloon partner Nora Twomey and executively produced by Angelina Jolie. Produced by Paul, it opened in Europe in summer of 2018 after huge critical success in the US and Canada.
Paul also produced two seasons of Puffin Rock, an original TV series which has been dubbed into over 25 languages. Paul is Chairman of Animation Ireland, the representative body for animation studios in Ireland as well as an Ernst and Young Entrepreneur of the year finalist.
2018 was the inaugural year of Kilkenny Animated, a festival of visual storytelling co-founded by Paul to showcase the talents and profiles of world renowned illustrators, designers, animators and cartoonists.

MEET UP
6.30pm Friday 12th April
City Hall, Quay Street, Sligo
6.30pm - Refreshments
7pm - Presentations by 2018 SLR Bursary Recipients
8pm - Presentation by Paul Young, CEO of Cartoon Saloon
- Followed by Q&A
RSVP by Wednesday 10th April for catering arts@sligococo.ie
Back to Arts News