Western Drama Festival One Act Comedy and Drama Festival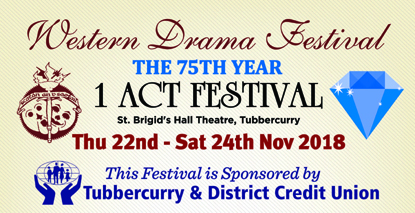 Yes folks it's drama time in Tubbercurry again. Drama lovers will be delighted to know we have an excellent programme of plays including brilliant comedy and terrific dramas in store for our One Act Festival is on 22nd, 23rd, and 24th November at 8pm in St Brigids Hall Theatre.
We are delighted to announce that the Tubbercurry and District Credit Union is our sponsor for the entire festival.
Our WDF Drama Festival has attracted once again the top groups in the country and this y ear we are really looking forward to seeing them perform comedy. Opening our festival is Mullet Drama Group with a hilarious show, it will get our festival off to a lively start. We have three plays each night plus two plays on Saturday afternoon with a great mix of comedy and drama for your enjoyment.
Admission nightly is €10. You can buy the Season Ticket for €30 available only at the ticket office on opening night and this is brilliant value to see 11 plays being performed. Geoffrey O Keefe is our adjudicator for the festival. As an adjudicator he is extremely popular and highly acclaimed. We look forward to hearing his keen observations during the competition and also looking forward to meeting and hearing our drama enthusiasts and patrons views on the plays. Come along and join us at our 75th Festival it will be a time to remember.
You will find details of the 11 first-rate plays on our WDF web site at the following link:
http://www.westerndramafestival.com/line-up-one-act-nov-18
Back to Arts News