Teach Ban Nua Contemporary Art Gallery
Drumcliffe, Co. Sligo

Website: www.teachban-artgallery.com
Phone: 087 7549760
Contact Name: Tom O'Rourke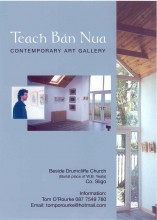 Teach Ban art gallery is run and curated by artist Tom O'Rourke. The gallery exhibits the work of established artists and places special emphasis on cultivating emerging artists of any age.
Painting, drawing, printmaking and sculpture form the basis of the various exhibitions in the gallery.
Teach Ban is situated near an ancient monastic site rich in history beside St Columba's Church, Drumcliffe, Co Sligo in the west of Ireland.
The gallery building is a modern extension to an old stone cottage and maintains the same exterior roof height. The pitched interior ceiling gives greater height and facilitates the northern light which streams through the large windows and glass doors at the rear of the building. Through these can be seen Ben Bulben mountain and the trees which frame the burial place of W.B Yeats, internationally famous Irish poet.
Email: tomporourke@hotmail.com