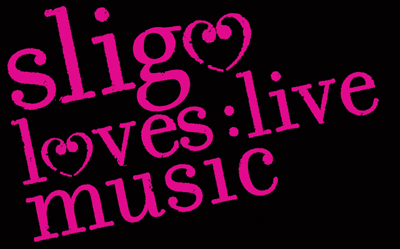 love:live music is Ireland's celebration of National Music Day through free live music events in cities, towns and villages all over the country. Initiated by Music Network it is an open invitation to everyone to make music everywhere.
Sligo is one of the most musical counties in Ireland, with a vibrant music scene and a love of music performances of different types and we are fortunate to have a wealth of professional and community musicians and organisations who play an important part in Sligo's cultural life. Sligo's loves:live music is a day to celebrate our musical tradition and audiences can find out once again just whySligo is synonymous with great music and musicians.
The website www.sligomusic.ie is an initiative of musicians, venues and music organisations with the support of Sligo County and Sligo Borough Council Arts Service and Creative Sligo. The site is primarily designed as a live music listings site with profiles and information onSligo's music festivals, events, venues and organisations. So if you're searching for music inSligo, check out www.sligomusic.ie and 'Set your musical spirit free'!
Love:live music is a one-day event co-ordinated at a national level by Music Network, in association with RTÉ Lyric FM, and funded by the Department of Arts, Heritage and the Gaeltacht and the Arts Council. Sligo's events are hosted by the Sligo Music Sector with support from Sligo Arts Service with special thanks to all venues, musicians and organisers.
For further information see www.lovelivemusic.ie and www.sligomusic.ie.