Dr Christa-Maria Lerm Hayes
The Yeatsian Legacy:
Talks Series 2010 at IT Sligo
Understanding Cultural Difference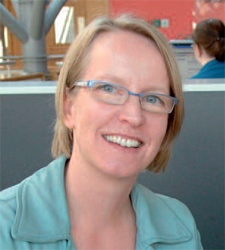 DR CHRISTA-MARIA LERM HAYES
Yeats and the Literary Art Exhibition as a Site of Identity Formation, Cultural Difference and/or Conflict
Thursday 15 April, 2010. 3.15pm
IT Sligo, Room A0004 (opposite main reception). Free Admission.
Curated by Ronnie Hughes
The successful Yeats exhibition at the National Library explored new paths in displaying the writer's (and the family's) work. It already deviated greatly from the established genre of the literary exhibition with its first editions and memorabilia that preaches to the converted and often enforces an unreflected, canonical status.
More could be done, however, to render Irish writers, their identities - and their readers' and viewers' - more diverse, paying more attention to interpretations, critical receptions and irreducible complexities. Differentiation is required e.g. concerning the Yeats family members' Irish and Ascendancy roots and the way in which such complexities are manifested in the works and transcend the simplified epithets of "the national poet" or "the national painter".
Visual artists frequently excel in interpreting (canonical) cultural production in such differentiated - even irreverent - ways. Literary art exhibitions will be presented and interrogated in terms of what they can do for contemporary viewers and readers in mediating the "big names". Case studies will be taken from art exhibitions that have focused on Joyce and Beckett.
About the Speaker:
Dr. Christa-Maria Lerm Hayes (born in Jena, Thuringia) is Head of the Research Graduate School of the University of Ulster's Faculty of Art, Design and Built Environment, Belfast, and Reader in History and Theory of Art. She gained her PhD at Cologne University and was James Joyce Foundation Scholar in Zurich.
Her research interests focus on visual legacies of (Irish) writers (Joyce, Beckett, Sebald), while also considering the historiography of art and curation. Rooted in Joseph Beuys studies, she has an interest in engaged, multi-disciplinary practices and post-War histories. Her books include Post-War Germany and 'Objective Chance': W.G. Sebald, Joseph Beuys and Tacita Dean (Steidl 2008), James Joyce als Inspirationsquelle für Joseph Beuys (2001), and Joyce in Art: Visual Art Inspired by James Joyce (Dublin 2004). This publication accompanied her exhibition on the theme, Royal Hibernian Academy, Dublin. She has curated for the Goethe Institute, Dublin, and is Non-Executive Director of OMAC / The MAC, Belfast.
Talks Series 2010 details: (071) 9111826
The Yeatsian Legacy Project is delivered by Sligo Arts Service, IT Sligo and partners. The project is supported by the PEACE III Programme, managed for the Special EU Programmes Body by Sligo County Council on behalf of Sligo Peace and Reconciliation Partnership Committee.