Culture online during Covid - Sligo and elsewhere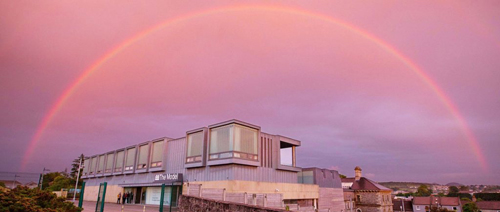 The Model: Home of the Niland Collection
The Model team has been busy preparing an exciting and colourful new online programme, The Model: Inside Out, where people of all ages can learn more about art and artists from their homes.
Hawk's Well Theatre
While the theatre building is closed, the Hawk's Well team has been working to create an online programme of events. Events are on their website and on facebook. The following schedule will be updated weekly on the Hawk's Well website and social media pages.
https://www.hawkswell.com/news/article/new-hawks-well-weekly-programme
The Hyde Bridge Gallery
'The State of Us' exhibition on facebook
https://www.facebook.com/hydebridgegallerysligo/
Sligo Library
Spring into Story Time on Wednesday, April 1st at 10am with Toddle Time on Facebook Live. With stories, songs and rhymes, there's lots of fun for everyone! Suitable of 0-5
https://www.facebook.com/SligoCentralLibrary/
The Ark @ Home
(Ireland's Cultural Centre for Children)
Arts activities and experiences for children aged 2-12 in their very own homes.
https://ark.ie/projects/details/the-ark-at-home-weekly-schedule
Irish Film Archive
The Irish Film Archive and many of the world's leading film archives, have made some of their materials available to stream online for free.
https://ifiplayer.ie/education/
International Federation of Film Archives
This link to the International Federation of Film Archives contains links to significant holdings of archival footage from around the world.
https://www.fiafnet.org/pages/E-Resources/Film-AV-Collections-Online.html
Enjoy world-class Theatre online
Join National Theatre every Thursday at 7pm for some of the best British theatre, free to stream for a week. Starting from 2 April with the online premiere of One Man Two Guvnors starring James Corden
https://www.nationaltheatre.org.uk/nt-at-home
National Gallery of Ireland
– take a virtual tour
https://www.nationalgallery.ie/virtual-tour
Galleries and Museums
Virtual Tours of the World's most famous Galleries and Museums
https://www.travelandleisure.com/attractions/museums-galleries/museums-with-virtual-tours
Hunt Museum
The Hunt Museum has just released a colouring book which can be printed from their website:
https://www.huntmuseum.com/2020/03/13/colouring-book/
Recreate works of art with objects found at home
https://mymodernmet.com/recreate-art-history-challenge/
Oliver Jeffers
Stay at Home Story Time with Oliver Jeffers
https://www.oliverjeffers.com/books#/abookaday/
Elevenses with the World of David Walliams
Every day at 11am, you can listen one of David Walliams' World's Worst Children stories.
https://www.worldofdavidwalliams.com/elevenses/
Branar Téatar productions
Watch Branar Téatar productions from home
https://www.branar.ie/news1/branarathome
National Geographic for Kids
https://kids.nationalgeographic.com/
The Big Bang
– A film documenting a Young Composer Programme run by Music Generation Sligo, featuring Composer in Residence Brian Irvine working with 5 young composers in 2012-2013. Commissioned by Sligo County Council Per Cent for Art Programme
Music Network Online Butterfly Sessions
– 8pm weekly from Wednesday 8th April
Music Network has announced it will commission 20 musicians to write a new piece of music to be premiered in a series of online music performances called The Butterfly Sessions. These and archive recordings can be viewed at
https://www.youtube.com/user/MusicNetworkIreland
Foróige Feed Your Soul Playlist
Nominate a song for Foróige Feed Your Soul Playlist
https://www.foroige.ie/blog/nominate-song-foroige-feed-your-soul-playlist
The Dock, Carrick-on-Shannon, Virtual Exhibition
The Dock is sending out an open call to all young people in Leitrim and the surrounding areas (Roscommon, Sligo, Longford and Cavan) to participate in a themed exhibition titled, NATURE NURTURE. Supported under Creative Ireland Programme through Leitrim County Council.
http://www.thedock.ie/events/young-exhibitors-open-call-for-submissions
VAI Visual Artists Ireland Webinars & Online Events
https://visualartists.ie/professional-development-_/#!event-list
SG Art Shop Sligo
SG Art Shop is now operating as an emergency business for individuals and teachers working from home-by delivery only. Telephone: 071 91 53810, Email: sales@sgeducation.ie, and online.
Sligo Hub
– for online events and resources
https://sligohub.com/
The Heritage Council
The Heritage Council of Ireland has organised drawings by artist Annie West of buildings and shops in Sligo that can be downloaded and coloured in.
Upload a picture of your finished artwork using the hashtag #LoveTownCentres.
https://www.heritagecouncil.ie/news/news-features/irelands-town-centres-colouring-series-for-kids?fbclid=IwAR33FtsH0C-7cbmSrXNW4EJ8pDujHgTI03cfi07VsCB4m3Gxpi948UXfM1c
For more information on this project, email aharvey@heritagecouncil.ie
Back to Arts News