Species Counterpoint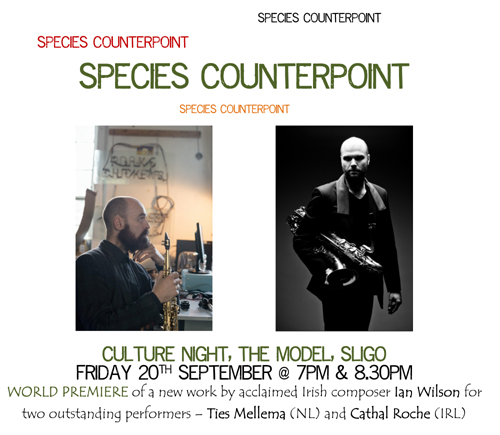 Species Counterpoint is a 25-minute work for baritone saxophone, contralto clarinet and live electronics which takes its inspiration from, and is an exploration of, animal and plant species under threat of extinction in County Sligo because of the effects of climate change. In order to inform myself of the facts on the ground I undertook interviews with local people who have knowledge of the causes of species threat/extinction (climatologists, ecologists) and people who are working to mitigate them (biologists) in order to build up a clear picture of cause and effect as well as obtain ideas about what can be done to mitigate the threat to species.
The principle idea I came away with after conducting my series of interviews is that biodiversity is under great threat both here and elsewhere; protecting and encouraging biodiversity must be high on the list of solutions to the problems caused by climate change. This idea is reflected strongly in the music.
I am always interested in creating new collaborations between Irish and international musicians so have brought together two of the most innovative saxophonists in this part of Europe – Dutch saxophonist Ties Mellema and Sligo-based saxophonist/wind player/improviser Cathal Roche. Both are long-time collaborators – and good friends – of mine and have premiered many specially-written works by me. This will be the first time they work together.
Species Counterpoint is funded through the Arts Council's Arts Grant scheme and is presented in collaboration with The Model, Sligo Heritage Office and Sligo County Council Creative Ireland Programme 2018-2022. (Ian Wilson)
Back to Arts News