SLR partners announce recipients of the 2018 Film Completion and Collaboration Awards
As part of a new partnership Sligo, Leitrim and Roscommon County Councils have come together with filmmakers from the three counties with a view to supporting the film sector the region to grow and develop.
Each of the three local authorities involved in this project recognise the value of film as an artform and the contribution that film can make to the region – socially, culturally and economically. In adopting a regional approach, we recognise that we can achieve a lot more by harnessing the capacity, resources and experience of agencies and practitioners of all three counties. The Film Completion Award supports an individual filmmaker or film company to complete a project already commenced. The purpose of this is to support the careers of ambitious filmmakers, particularly emerging filmmakers and to support work with a strong cultural or progressive impact and filmmaking that takes risks on talent, form and content, where the more commercial sector cannot. The recipients of this year's awards are Christine Braithwaite and Roisin Geraghty.
Having started her career over twenty years ago in Belfast as 3rd assistant director on her first feature film Divorcing Jack, Christine Braithwaite worked up to camera operator on leading dramas Emmerdale, Coronation Street and many more. Now based in Ballaghaderreen Christine has been filming promos, stop motion animation and writing scripts for features, shorts and entertainment. The film that she is now completing is called Circuit Love. Set in the 1980's Circuit Love is based in the West of Ireland and follows a young student called Lewis who is programming a virtual world in the realms of his bedroom. However Lewis's virtual reality ambitions become a living nightmare as his programme consumes him into the computer, leaving his friends baffled to where he has disappeared. Shot at Redhill House, Gurteen, Co. Sligo and St Nathy's school Ballaghaderreen, the 13mins Sci-fi film features cast and crew from the SLR region as well as Dublin and Cork.
Roisín Geraghty is a freelance producer, production manager, arts administrator and film curator born and raised in Castlerea, Co. Roscommon. After a number of years honing her skills in New York and Dublin, she decided to make the leap back to living in the North West, where she has continued to develop short and feature film projects, as well as curate and manage a number of different film festivals and film initiatives. Five Letters to the Stranger who will Dissect my Brain is a high-quality, innovative and experimental film project directed by Oonagh Kearney and produced by Roisin. This film combines drama, movement, dance and poetry to describe the soul-searching journey of VIV, a young medical student at Trinity College Dublin, whose first encounter with a cadaver in the anatomy room, sends her on a soul-searching quest into the nature of what it means to be alive.
The Film Collaboration Award supports a filmmaker and writer to come together and collaborate in the development of a new project. This is designed to encourage artists from different disciplines to work together and to seed the development of new ideas that could become films in the future. This year Sligo based filmmaker Niall Flynn was supported to work with writer Brian Leyden. Niall co-produced the pan European television documentary for RTE The Nuncio and the Writer which garnered multiple four and five stars reviews of both national and international media outlets. Brian is best known as a novelist and short story writer whose work includes Summer of '63 (Lepus Print, 2016), The Home Place (New Island, 2002/Lepus Print 2014), Death and Plenty (Brandon Books, 1996), the short story collection, Departures (Brandon Books, 1992) and Sweet Old World: New & Selected Stories (Lepus Print, 2015). His track record in the screen trade includes his screen credit as co-writer with director Johnny Gogan on the full length feature film Black Ice (2013) which received an IFTA best actress nomination for its lead Jane McGrath. This award will support Niall and Brian to adapt Brian's most recent book Summer of '63 for the screen. Summer of '63 sees teenagers Bernice Hickey and Leo Rossiter drawn into an adult world of deception, tangled motives and intrigues of the heart more complex and painful than they bargained for as they and a country come of age during the visit of President John F. Kennedy to Ireland.
Filmmaker Róisín Loughrey and writer and theatre producer Treasa Nealon are both from Manorhamilton. Treasa is a young and accomplished playwright with a very contemporary style whose work reflects a radically changing Ireland. Róisín is a well established, award-winning filmmaker and artist who works at the intersection of creative documentary, dance and social issues with a background in theatre. They are both interested in the changing face of contemporary Ireland in this new digital-age and want to work with teenagers to create a new and exciting film based on their realities but grounded in a strong narrative. With Treasa's hard-hitting writing and Róisín's visual style and directing experience they are now embarking on creating something very powerful capturing that mixture of fearlessness and vulnerability that is so unique to teenage years.
As well as providing financial support, the SLR project also organises training and networking and helps filmmakers from here and elsewhere navigate the complexities of making a film. To do this SLR works with film development agencies and organisations to carry out its programme made possible through funding from the Arts Council.
The next SLR networking event will be held in Sligo Town Hall on Friday 16th November at 6pm. Special guest is Paul Young who is one of the founders of Animation Ireland and co-founder of the multi-award winning Cartoon Saloon.
To book for this event or if you are a filmmaker based in the region or looking to work here go to www.slrfilm.ie to find out more about the project and how to get involved.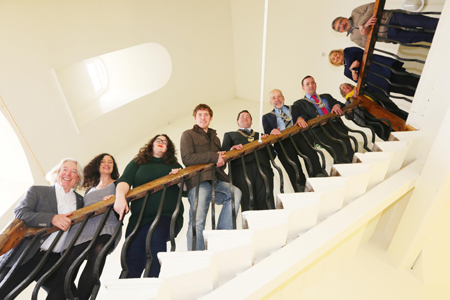 Back to Arts News