Informal Music Afternoon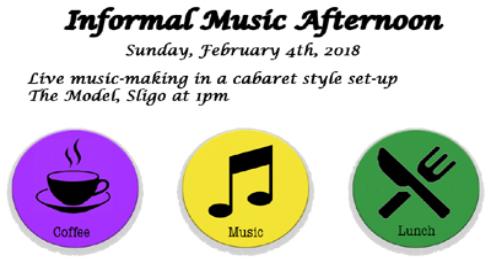 Live music-making in a cabaret style set-up
The Model, Sligo @ 1pm
Admission €5
Children always free
Sunday, February 4th, 2018
Programme will include...
...a late work by Johannes Brahms, his sonata for viola and piano in F minor, music of extraordinary intensity, crystallised melancholy, despair, gentleness, beauty and, in the end, some sort of triumph. It will be performed by Aoise O'Dwyer, an Irish violist based in Santiago, Chile with pianist Aileen Cahill. They will also perform two pieces by Guillaume Connesson.
A graduate of the Conservatorium van Amsterdam, Aoise O'Dwyer is passionate about chamber music, particularly the wide range of repertoire written for viola and piano. She is currently a member of Duo O'Dwyer-Meier with whom she has been invited to perform at prestigious venues such as the National Library of Chile, the Cultural Foundation of Providencia, the University of Chile Zegers Recital Hall and the German-Chilean League. She is also a violin, viola and Music Kindergarten teacher at the International Music Academy, Santiago.
Aileen Cahill is an Irish pianist based in Dublin. Graduate of DIT Conservatory of Music and Drama and the Royal Irish Academy of Music, she has a strong background as a soloist, having competed nationally and internationally. Aileen now works primarily as a chamber musician and accompanist, with a broad repertoire covering opera, lieder, string and wind repertoire alike. She currently lectures in Piano at DIT Conservatory of Music and Drama and is the Music Department repetiteur at Maynooth University.
Amy O'Hara is a London born songwriter based in Sligo. She will be performing original songs which echo swing jazz and folk/blues influences. Accompanied by Felip Carbonel of the No Crows on guitar and Sketch Oni of 123skidoo on bass, they provide a humorous set which is not without its deeper questioning into the oddities, predicaments and quirkiness of life.
IMAs are produced by Sligo Baroque Orchestra in partnership with the Model.
They are supported by the Arts Council and Sligo County Council.
Back to Arts News