Sligo Baroque Orchestra – bringing to life music of the 17th and 18th centuries
Sligo Baroque Orchestra is eager to hear from instrumentalists of any age who have good basic technical ability and a desire to be part of an orchestra that includes weekly rehearsals and around eight or nine public performances each year.
Currently the Sligo Baroque Orchestra has vacancies for oboe, bassoon, horn and all string instruments including double bass.
The Sligo Baroque Orchestra is made up of professional, amateur and student instrumentalists. The orchestra leader is Nicola Cleary and the repertoire is mainly, but not exclusively, from the Baroque and early Classical period. In 2014 the Sligo Baroque Orchestra performed in a number of Informal Music Afternoons including a special O'Carolan/Geminani programme, combined with Sligo African band, Tropicana Musica for concert in Cairde Festival devised by Steve Wickham, with guest soloist Therese Timoney gave the final concert in Sligo's Festival of Baroque Music, and performed their annual Student-Soloist concert.
For more details contact Rod Alston at rodalston@eircom.net or 071 9845122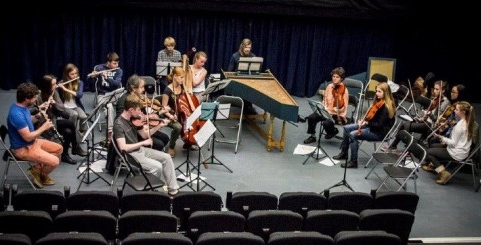 Members of Sligo Baroque Orchestra rehearsing in The Model, Sligo
Back to Arts News