European Creative Industries Alliance Policy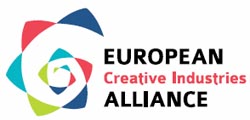 The European Creative Industries Alliance (ECIA) recently presented its policy agenda to boost the creative industries. 200 policy makers and representatives from the creative industries gathered in Amsterdam for the launch of ECIA's final report Create! Innovate! Grow!
Download ECIA Final Report – Create, Innovate, Grow (PDF) - 3,267 kbs
Experts from 12 European countries presented their recommendations to maximise the innovative contributions of Europe's creative industries based on the Alliance's eight concrete actions on innovation vouchers, better access to finance and cluster excellence & cooperation. Their 10 step action plan calls for more investment in creative industries by public and private agencies and provides examples to enable cross-sectoral collaboration, facilitate access to finance, and to better measure and raise awareness of the value of creative industries as a key driver of innovation and growth.
Key findings include;
Stimulating cross-sectoral collaboration using innovation voucher schemes will boost creative SMEs orientation towards business-to-business markets and act as a horizontal enabler of added-value
Vouchers are effective as a tool for businesses to spend innovation subsidies on collaboration with creative SMEs. This requires increased professionalisation of creativeSMEs, including the ability to recognize and respond to innovation challenges in other industries. This cross-sectoral approach was shown to boost innovation and growth in all sectors
Building better business support and access to finance are also crucial for the creative industries to grow and mature
New and innovative financing schemes to support creative SMEs, such as microcredits, repayable contributions, peer-to-peer lending and crowdfunding are needed
The EU programme Creative Europe, which includes a new financial guarantee facility, is highly welcomed as a targeted instrument which will facilitate access to finance for cultural and creative sector SMEs
RasmusWiinstedt Tscherning, chairman of ECIA's Policy Learning Platform said "This report is just the start of a policy dialogue that needs to take place now in the 28 EU Member States to promote growth and innovation in Europe."
The European Commission pointed out that 3,750 SMEs have benefitted directly from the Alliance's concrete actions through customised innovation support. In its communication calling for a European Industrial Renaissance, the Commission highlighted creative industries as a leading sector to take the EU out of the economic crisis.
ECIA was set up as an open platform in 2012 by the European Commission's Enterprise and Industry Directorate-General. It gathered experts from 28 partner organisations and 12 countries in the field of creative industries who collaborated to set an agenda for innovation and growth.
For more information visit www.ECIAplatform.eu
Back to Arts News